So, I finally finished
Bioshock.
I mean, I'd already played the second and
Infinite
but I hadn't been able to find the first in stores and then one of my former students reminded me that I can buy the games online through the Playstation Store.* After purchasing it I had to wait for awhile as I decided to do a very grown up thing and buy a house. But, over the last week I lost myself in the world of Rapture.
For those who haven't played it you play a character name Jack Wynand who has crashed into the ocean and found himself by a lighthouse. Following the discovery of a bathysphere he quickly finds himself in the world of Rapture, the underwater city created by Andrew Ryan. Unfortunately, 'civil war' has broken out among the residents after the discovery of Adam, a genetic material that can give you various powers such as telekinesis, pyrokinesis etc. The residents have become addicted to Adam and have started to mutate, becoming Splicers and Rapture has begun to fall apart.. Jack's only help comes in the form of Atlas, a supposed friend who is desperate to save his family and himself. Atlas guides him through Rapture in an attempt to get rid of Ryan and save them all...
The environment of Rapture, alone, is breath taking. Just look at the images below.
I was already a fan of the Bioshock regardless of not having played the first game so I might be a little biased in regard to my review but this game was really good.
Overall the game was immersive enough for me to loose track of time. I found myself going through various rounds looking for more information or more secrets to the world of Rapture. Little details really made the game stand out to me - especially little things such as posters, stores and the toys of Rapture's children.
The weapons and the plasmids (Adam infused serums...) made the game challenging and fun. Plasmids are picked up throughout the game by gaining Adam. Some of my favourites were Incinerate and Electro Bolt. They were definitely the two I used the most. The longer I played the more adept I became at switching from Plasmid to Plasmid and changing up my weapons. Sometimes I became a little confused with which side was which and I would find myself cycling through Plasmids when I really just wanted to change my weapon but it wasn't enough to distract me.
The plot for the Little Sisters and Big Daddies was eerie but interesting. The option on whether to Harvest or Rescue the Little Sisters added a level of unease to the game. By that I mean that I could never do anything but Rescue the children. This leads me onto the fact that the game has different endings depending on whether you Rescue or Harvest the Little Sisters. Which made me enjoy the game a little more. Since I couldn't bring myself to harvest the Little Sisters (a process that kills the girls) I had the happier ending for the game. The same idea was also done in Bioshock 2. Though there were three different outcomes, if I remember correctly.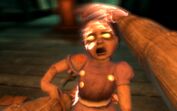 One thing that really unnerved me was hearing the Little Sisters carry on as little girls, calling the Big Daddy "Mr Bubbles" with an innocent sing song voice before shoving a syringe into a corpse to extract more Adam. (Which they they drink...) Creepy yet I couldn't look away. And, I have to admit, killing the Big Daddies made me a little sad as well but I think that helped me enjoy the game.
Anyway, I thoroughly enjoyed the game. If you are only going to play it once definitely rent it but if you like immersive games with incredible backstories buy it. My overall score would be 8.5/10.
Pros:
The Art of the game.
Characters. The prominent characters really stood out. Atlas, Fontaine, Tenebaum etc.
The background. A lot of effort had been put into the background of the game and that is something that really draws me in. I love the nods to history, even the anachronistic ones.
Cons:
Weapon glitches. Every so often, when I would revive in a Vita Chamber, my weapon would still keep shooting even when my hand was off the trigger. What a waste of bullets.
Toward the end there was a point where I found myself getting annoyed with a side character that kept getting in my way. I am pretty sure it was a minor glitch but I just ended up yelling at the screen...
For more information check out
BioShock Wiki.
My next mission is to get a copy of Portal 2. I've seen game play and I really want to give it a go.
Question time: What plasmid would you like to have? Although I enjoyed Incinerate I think Telekinesis would be fun...(This could relate back to my obsession with the Dark Phoenix story line in
X Men.)
Until next time,
Peace and Pancakes.
*Sometimes I've been known to be a little slow on the uptake...